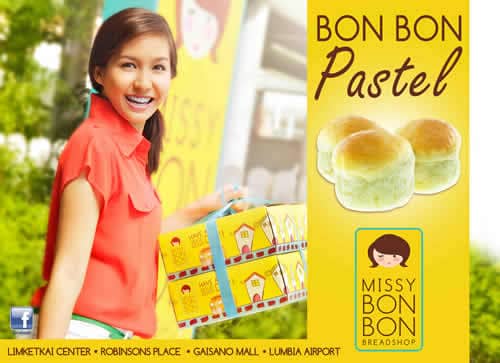 A new pasalubong from Cagayan de Oro was just launched at Missy BonBon Breadshop. Tourists and locals who want to take tasty Cagay-anon treats with them as they leave the city now have more options, as the city's premier breadshop Missy Bon Bon has become a go-to place for pasalubong goodies. Any of Missy Bon Bon's breads would make great pasalubongs, according to Henrik Yu, one of the owners of the breadshop.
But in addition to the old favorites, Missy Bon Bon has also come up with a new product – its very own pastel, a soft chewy bun with a sweet and creamy custard filling, available in boxes of 6's or 12's.
The classic Missy Bon Bon creations that have become popular as pasalubongs include: the ensaimada, the sweet potato bread, and the cheesy sponge.
Missy Bon Bon Breadshop is located in Rosario Drive, Lim Ket Kai Center, and has stalls at G/F Robinson's Cagayan de Oro and G/F Gaisano Mall.