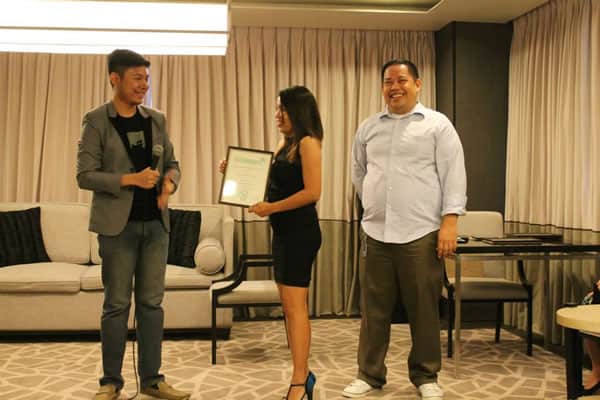 Its been a long way since CDOBloggers started back in 2008. It was November 8, 2008 when Chiq Montes invited bloggers and people in the online work field at Maxys Restaurant. I was new in blogging back then, I was introduced into it when I started tinkering with the open-source Wordpress platform for my website development business. I just recently close shop my last branch of Cyberpoint Internet cafe that was the pioneer in the Philippines so I was contemplating on diversifying into another kind of business on the Internet. I have not much friends in the online business field so I decided to join with the gathering since Chiq invited me to meet for the first time.
It was discussed on that meeting that we will form a group so we can organize the next Mindanao Bloggers Summit here in Cagayan de Oro City.It was originally planned to be only an informal group but I suggested that since we are already forming a group and we will be dealing with many businesses in the city to organize a Blogging Summit might as well form it legally and be registered in the Securities and Exchange Commission as a duly-registered non-profit organization. I envisioned the group to have a long way to go since it is still a growing field in the online world so that was my idea of making the group officially registered.
In 2009 I work out the papers for the SEC registration and at the same time working with the group for the Mindanao Bloggers Summit to be held here in the city. On June 25, 2009 the group was officially registered with the Securities and Exchange Commission. And on October that year was the 3rd Mindanao Bloggers Summit that was a big accomplishment of the group as a major project.
As the group is moving forward, I discussed with Chiq about an annual Blog Awards for the group as recognition to the members as well as to keep the group active and growing. But it was always postponed to a later time as time, funds and small conflicts emerge as it goes by.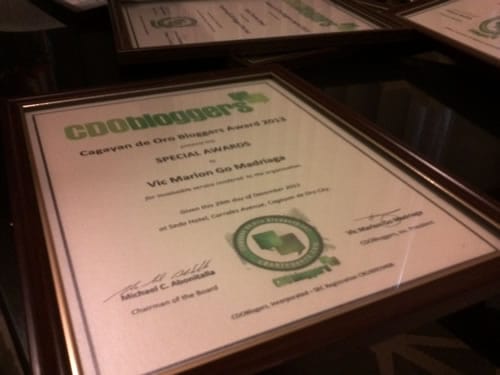 In 2013 as the group is celebrating its 5th year as a group, the CDOBloggers Blog Award was finally fulfilled at the most premier hotel in the City with a dazzling overview of the city at the 11th Floor of Seda Hotel executive lounge last December 29, 2013 in time also on the 1st anniversary of Seda Hotel.
Below are the list of awardees and I would like to congratulate all for a  job well done. I would also like to thank my committee members specially to Jean Jacques Agbon as my right hand in making the awards successful as well to the best president of CDOBloggers Vic Madriaga and Ruby Caberte for the inputs.
Best Blog Award
Phebe Ann Normandia
Breakthrough CDO Blogger of the Year:
Sarah Lituanas
Marie Therese Orteza
Most Active CDO Bloggers Member of the Year:
Maria Irene Aserios
Ruby Caberte
Most Active CDO Bloggers Officer of the Year:
Jean Jacques A. Agbon (VP for External Affairs)
Best Cluster Performance of 2013
Eco-Tourism Project – Project Head
Clement Dampal II
and committee members:
Richard Badlisan, Michael Abonitalla, Jean Jacques Agbon, Irene Aserios, and Rosanna Lim
Whitewater Rafting (Sponsored by 1st Adventure White Water Rafting)