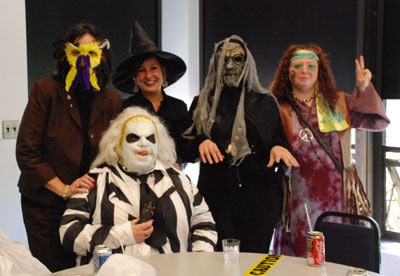 Halloween is not just for kids. Many adults still have a lot of fun with the holiday that falls on the very last day of October. For many, the religious or supernatural aspects of the origin of the holiday means very little. They just want to dress up and have fun being someone else for just one day or one night. If you have little ones, you may do thing with them on Halloween, but if you do not, or your kids are going to stay with Grandma, you can use some Halloween party ideas for adults for a fun get-together at your house or at the home of a friend.
Some of the best ideas from your childhood can still be used for fun and games when you grow up. One of the most interesting and fun Halloween party ideas for adults is to do something you may have been working on since you were a kid – bobbing for apples. Some parents won't allow this any longer because they are afraid it is unsafe. As long as an adult is supervising things should be just fine. The same can be said for adults. Bobbing for apples can be fun as long as there are sober folks around to make sure things go well. Perhaps do this activity early on if drinking will be going on at your get-together.
You can make up fun things on your own if you have a good imagination. Get pumpkins and some basic carving tools and have a contest to see who can come up with the most creative, scary pumpkin. The catch to this could be that whatever is scary must be from real life, not a ghost, goblin or monster. Some of your guests are going to think up neat ways to carve out the IRS for paying taxes, or perhaps an ex of theirs that put them through a traumatic divorce. At any rate, some of these should be downright funny. Make sure you have a good prize on hand for the winner.
If you are having a dinner party to kick of your bash, you can use Halloween themed foods and drinks just like you would with a kids party. The best part about this, however, is that your food Halloween party ideas for adults can be more authentic. There are many scary foods you can make for kids, but they have to have some comical touch to them so that they are not too scary. With adults, this is not needed. You can make things as real as you can without actually serving your guests brains, severed fingers, or bloody punch.
There are plenty of other Halloween party ideas for adults. You can have a costume contest, but make the themes and categories more adult oriented if you wish. You can have music and dancing in a Halloween theme, or you can just play what you all like. If you have enough to hire a band, many will dress up for the evening. If those ideas are too common for you, look online or at your local party stores for some ideas on what you can do for your grown up spook-fest.