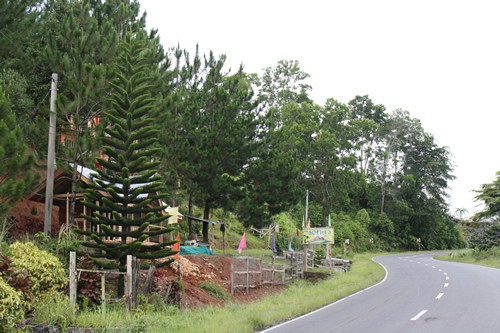 Dawn of saturday at 3 a.m. in the morning (May 29, 2010) CDOBloggers meetup at C7 convenience shop in Divisoria for a road trip to Davao and GenSan to attend the SoCCKSarGen Summer Safari adventure. By around 4 a.m. we are leaving Cagayan de Oro so we can arrive in Davao by 10:30 a.m. to meet the Davao bloggers for our first food trip. Along the way in the BuDa area one of the tire of our starex van blowup and we make use of the time while waiting for the tire change to tour around the scenic Buda or Bukidnon-Davao area, it's actually the boundary of Bukidnon and Davao Hi-way that's why the place was called Buda.
We arrived Davao behind schedule at around 12:30 noon already and the Davao bloggers are already waiting for us at Ranchero Grill our first food trip sponsor. Ranchero Grill serves us sumptuous food of pork, seafoods and kambing, watch out for the details of our food tasting in my food blog at TasteCaster.com. By around 2 a.m. we have to leave Davao and proceed to General Santos City together with the Davao Bloggers to catch up with the main event there. The bus ride take us around 3 hours of travel and we arrived in GenSan at around 6 p.m. in the evening. Orman Manansala one of  our main host of the event meet us at the bus station together with our van courtesy of the city mayor of GenSan Mayor Acharon. From their we proceeded to Ice Castle Experience the newest hotel in GenSan, We will be there first guest as this establishment is really new. They will be our sponsor for our 2 night stay in the city.
After freshen up in the hotel we proceeded to Pacman Sports Bar which is owned by Manny Pacquao the boxing legend from GenSan itself, it  is just a walk around the corner of our hotel. They will be sponsoring our aperitif drinks before going to our main dinner at Le Jardin Arnevel's place.
At Le Jardin Arnevel's place we were greeted by the owner tita Nitz and she prepared another sumptuous dinner for us in Barrio Fiesta style by the pool. From there we went to Pyesta! KTV Bar and Resto for the Bloggers Grand Eyeball with the Soccsksargen bloggers. Pyesta! is owned by a fellow blogger Donna Mae Congson who is personally serving us unique cocktail drinks in test tube and syringe style. It was a tiring and exciting saturday but very great experience.
I would like to thank our sponsors of the day:
Ranchero Grill – Davao and GenSan
Ice Castle Experience (ICE) – 12 Ambassador Provido Village, City Heights, General Santos City
Pacman's Sports Bar – City Heights, GenSan
Le Jardin Arnevels
Pyesta! KTV and Resto Bar – Robinsons Place, GenSan